On set with the
Fuji Film X-H1 and Vintage Motorcycles Part Two
STILLS and the Fujifilm GFX 50S
This is the stills part of the previous blog  post. Working as a visual storyteller, both in stills and video, for nearly two decades, every day has been a new adventure. I enjoy the challenges of taking on a new and different subject matter at each shoot.
Here is a quick recap, I recently partnered up with the "Clube Português de Motos Antigas" (CPMA ), the Portuguese Antique Motorcycle Club. We had as our subjects 5 awesome classic motorcycles (1972 Moto-Guzzi V7 850 GT; 1981 Suzuki GSX 1100 S Katana; 1982 Laverda 1000 Jota 120; 1984 Ducati 900 MHR Mike Hailwood Replica; 1989 BMW K1), together with a member of the club, the gorgeous model Marina Oliveira ).
 Take a  behind the scenes look into  Precision Tools   
I took some stunning stills at maximum quality with the Fujifilm GFX 50S  and you can read about the video portion in Part One of this post called "On set with the Fujifilm GFX 50S and Vintage Motorcycles Part One  – The  Film  Precision Tools".
I did take some sample stills because I was using a demo model I was not able to shoot in RAW here are two hi res Jpegs direct from the camera.
Location and Gear
My setting is an old industrial compound, one of the former "Manutenção Militar" (Military Maintenance) sites, which will now give place to the "Hub Criativo do Beato" (HCB – http://www.hubcriativobeato.com/), on the Tagus riverside in eastern Lisbon, in a former army factory complex, recognized for its industrial and architectural value..
The 35,000m2 distributed amongst 20 buildings are being renovated to house national and international entities in the areas of technology, innovation, and creative industries, that call Lisbon an entrepreneurial open city and a world reference.
I regularly have a dedicated film and stills camera but in this behind the scenes still, you can see we are shooting 4 K promo with the XH- 1.  A behind the scenes camera – the XT-2 , and hi-resolution stills were taken with Fujifilm GFX 50S that is on 3 legged things Tripod. See how I position the flash and continuous light in almost the same position.
Lightning the scene
As you can see from this behind the scene picture were using a relatively minimal amount of gear for the results obtained. We're Lighting video with Arri continuous lighting. We had about six 1000w heads and two LED Ice lights from Westcott. You can see them hidden behind armchair beside a hidden  ProFoto B2  portable Strobe.  I also have another set of B2  and B1X with The OCF Magnum Reflector, dedicated for flat fronted lights.  Combining both lighting situations, I created a more interesting final result for my photographies and at the same time shoot separate video content with the reasonable smaller kit.
How I got the Shot  1982 Laverda 1000 Jota 120 CC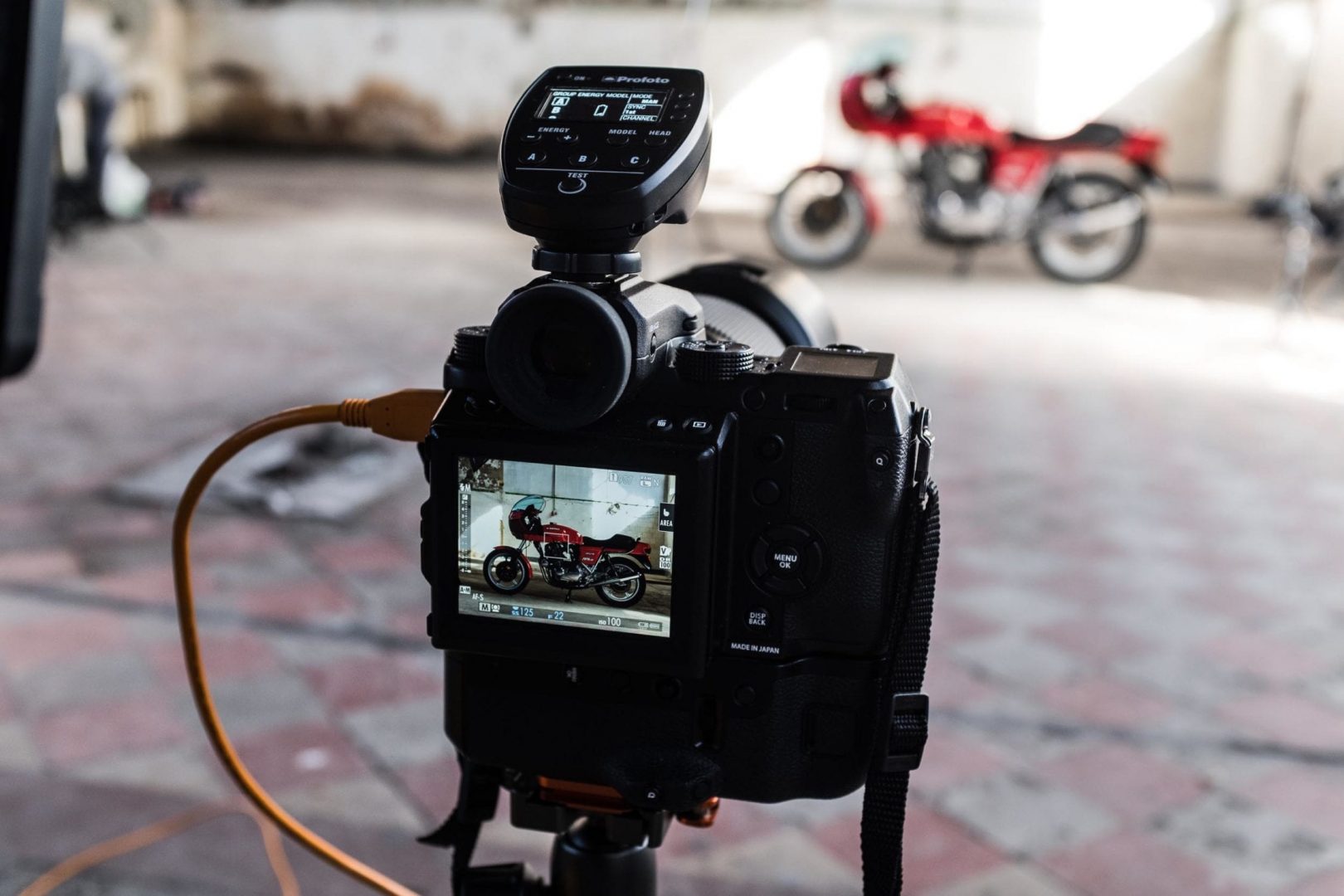 First thing I do when I arrive at the general location is decided the exact spot of the subject,  so you can see in the back of the camera the beautiful 1982 Laverda 1000 Jota 120. I wanted to take advantage of some of the natural light of the space, however, the ever-changing light conditions were another big challenge. This time, I relied on my ProFoto B1 system, with the new ProFoto Air TTL- F. It's incredibly easy to work with: all I have to do is switch it on and I'm ready. By using a mix of artificial and natural light my image becomes more complex and interesting,
The air remote is wonderfully stable, and I have everything on the back display, so I can see exactly what I'm doing, controlling my light at my fingertips.
 I am using five light set up, I have a Profoto B1 with Soft Box RFI Octa on a taller Light stand above the bikes, I use two Profoto B2 with Barn doors and raw , without any light modifier, on the wheels and I use two Profoto  B1X with OCF Magnum reflector.
I also use some Westcott Scrim Jims to block the extra natural light coming in from Giant window in the space.
Here,  we're shooting the  1984 Ducati 900 MHR Mike Hailwood Replica valued at about 20K. I have my Fujifilm GFX 50S on a 3Legged  Thing tripod , this way i can keep my camera sturdy. When  shooting this type of complex image I can easily clone or clean anything and still keep nice super sharp focus.
I have a Five light set up again , I use two Profoto B2 kits   one without  a diffuser on it and the other  one has a set of barn doors, while my assistant Antonio  is  holding a B1 manually with the RF Octa box above  the Ducati 900 MHR, we also have another  B1  off-camera flash  pointing towards a giant engine that is part of my background .
---
Credits
Director  – Executive Producer  – DOP – Photographer  –  João Carlos  yeah I do allot around here, I think I need a secretary
Camera dop assist – Video editor- Color-Grading – Graphics  – Pedro Davim he does a lot of other stuff also, he needs a vacation.
Photo Assistance –  Still  Post  Processing  – Antonio Jose Almeida
Camera assistant  Behind the scenes Camera – Joao Abel Ges
Photo Assistance –   Production Manager     – Paulo Goulardt he was also the convertible driver in the moving footage scenes.
Model – Club Member  Marina Oliveira she is cool and beautiful and bad ass.
Intern    – João Brás good luck scout out in the world,.
 The motorcycle  Driver  Pedro Melo Pereira, Tomás Couto, Tiago Pedro
---
Thanks To
Clube Português de Motos Antigas  for loaning the cool   Bikes   1972 Moto-Guzzi V7 850 GT 1981 Suzuki GSX 1100 S Katana; 1982 Laverda 1000 Jota 120; 1984 Ducati 900 MHR Mike Hailwood Replica; 1989 BMW K1
UNIKE STUDIO  for the furniture  and Mica Paprika
Bazar do Vídeo  and SR Abel Chaves for  technical support
Beato HUB
Colorfoto and Eduardo Lima for technical support they have been another close partner in my career.
Profoto for some of the lighting gear. always awesome
Innovafoto  for the technical support
Paulo Eduardo.
---
[kkstarratings]