Shot Kit article
I was invited to write an article for the website ShotKit, a place where photographers can share what is the gear they use. Finally, it is published, if you are interested in seeing what gear do I use to create my images you can scroll down and read it here. You might as well be interested in checking it on ShotKit for that click here.
Use this link to get free shipping and a gift from my friends over at  Thinktank Photo 
My Gear Over the Years
My name is Joao Carlos. I was born and raised in New York and I'm currently based in Lisbon, Portugal. I also spend a lot of time traveling the world working for advertising agencies, fashion brands, and magazines.
Every day has been a New adventure while working as a visual storyteller in both stills and video for almost two decades, It doesn't seem like long to me, but I guess it has been – especially considering how gear has changed! During this whole time, my kit bag has gone through a series of evolutionary changes to where it is now.
As a young photographer in the 90's with no money, I started small. Sold my guitar a Fender Stratocaster to pick up my first SLR, it was a NIKON F65, I had it for maybe six months and quickly discovered that I wanted something else better. By selling this camera and the two kit lenses I picked up a second-hand Canon EOS 5, saving up a couple more months and picked up a 50mm 1.8 lens.
I worked at some local newspapers while I got my degree at ARCO center for art and communication in Lisbon, then I spent about five years assisting a number of commercial and fashion photographers. At the same time opened my first studio MILKMAN back in 2001. I have always been a firm believer that, you need the proper tools to get the job done and for every job, those tools may be very different from each other.  As my career grew and kit bags got larger, I  moved up to medium format, a Pentacon Six, it was an old eastern European camera brand, basically a cheap 6×6. What I really wanted was a Hasselblad. Soon I sold all my gear again, the Petacon Six kit, 4 lenses and a couple bodies at this point to get a Hasselblad 503cw body only.  The lenses I bought second hand from a photographer I had assisted about 3 months later. It has always been a process of upgrading my gear. During this time I used primarily  Elinchrom lights in the studio, I had a kit of three compact strobes and two 3000w packs that I would rent a generator if needed to shoot on location with light.
The next big evolution to my kit happened with the switch to digital SLR. My first digital camera was the D30, at this point I had made some bad investments, got a lot of debt and had to sell almost everything. I moved to New York City and picked up my first Canon 5d Mark II on craigslist this was about 2008.
One of the highlights of my photography career came in 2010 when I won the Hasselblad Masters Award, this was awesome because Hasselblad loaned me an H4D40 for what was supposed to be six months, but I had it for a year and then gave it back, unfortunately. Three years ago I purchased my first FUJIFILM Camera the X-T1, after a week of shooting on a job for a travel magazine I was hooked, I had really fallen in love with FUJIFILM cameras, the amazing quality, easy to use and compact form factor, plus they are constantly updating their software, all made it very easy for me to fall so hard and so fast. So much so that I sold all of my Canon and Hasselblad gear and now shoot both stills and video entirely on FUJI X and G systems.
Another huge step forward for me was when I purchased Profoto B1 and B2 kits, just the ability to have that type of great quality of light and portability make for awesome extra to my kit.
Below you can find a full list of everything in my kit bag.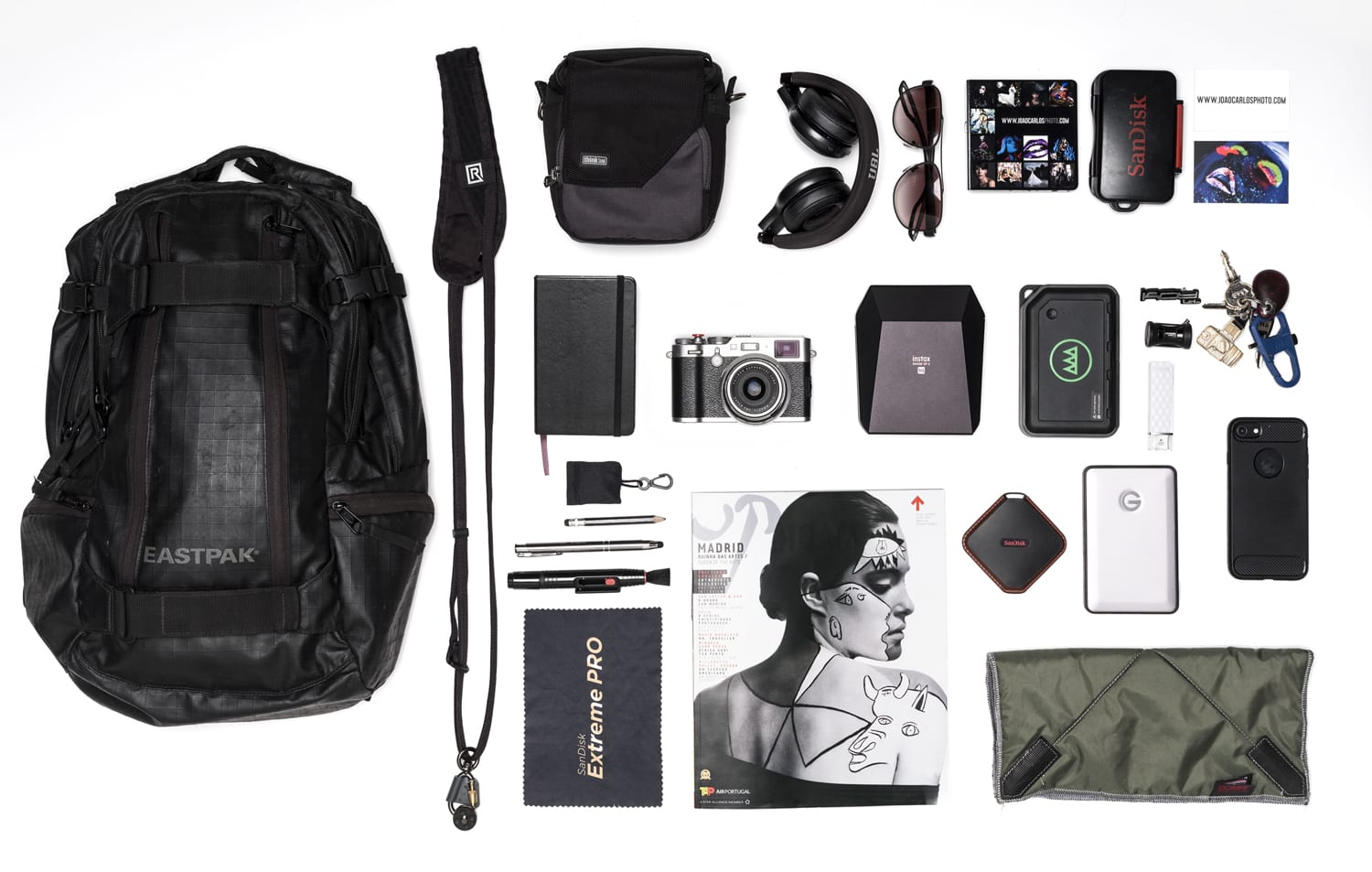 Eastpak Backpack
My Eastpak bag is my everyday-carry bag, in this bag are the items that I carry with me on a daily basis. I bought it in the Stuttgart airport because I needed a backpack and I loved the look and functionality of the bag. It's black, discreet and it doesn't shout "PHOTOGRAPHY". It has loads of pockets and the compression straps are great to attach it to the handle of my ThinkTank Airport TakeOff. This version of the bag is the heavy one. As my personal bag, the stuff in there changes all the time, I will usually have my laptop in there it always helps to get some work done. The most important tool I carry on my backpack is my Fujifilm X100F, I love carrying this camera wherever I go. I carry a Blackrapid Street Breathe strap to go with the camera. I store the camera either in my Think Tank Mirrorless Mover 10 or a protective wrap. There is always some pen and paper in there, to take notes and draw quick scatches. In my backpack, I always carry some kind of a book, in this case, this June's issue of Up Magazine that I had the pleasure to shoot the cover of. I'd carry the Instax photo printer if I'm going to shoot on the street, some storage devices as the Sandisk Extreme 510 Portable SSD to keep my personal files, G-tech HDDs to hand files to my clients. The Gnarbox is also present sometimes in there since it lets me back up my cards without using the laptop. Always having some Moo cards and Koylab minibooks which are the perfect tool to make new business contacts.
Fujifilm X100F
instax SHARE SP-3
128GB SANDISK EXTREME PRO SD UHS-II CARD
64GB SANDISK EXTREME PRO SD UHS-II CARD
SANDISK EXTREME 510 PORTABLE SSD
SANDISK Connect Wireless Stick 64GB
Black Rapid Street Breathe
ThinkTank Mirrorless Mover 10
GnarBox 1.0 256GB
G-Drive Mobile USB-C
KoyLab MiniBooks
Moo Business Cards
Domke Protective Wrap
Book/Magazine
JBL Headphones
Sunglasses
Sandisk Lens Cleaning microfiber cloth
A6 size notebook
Pen and Pencil
Keys
Apple Iphone 8
My next bag is my perception pro, basically is my FujiFilm X series kit. Currently, I have X-H1 and X-T2 bodies. I love the small cameras for shooting video. Their compact design and the quality of the 4K footage makes them fantastic. The lens quality of Fuji is also amazing! I don't own a lot of lenses because I like to keep my kit, again, small and compact, I mean this is one of the major reasons why switch to Fuji. I choose to use prime lenses because their image quality is superior and the style of photography that I do. I'm really not shooting that many events so I don't own any zoom lenses. My lenses of choice currently are the 14, 27, 35 and 56 mm lenses. I'd like to add to this kit the 80 mm macro lens and the 55 to 140mm 2.8 that would be probably my ideal zoom lens. On the creative side of things, I also use a lens baby trio 28 which is a great little three and one lens that is used in some personal projects and even some commercial film projects. It always brings a new creative touch to the overall feel.
Other elements that are fundamental in my kit are my BlackRapid straps, batteries lots of batteries, my SanDisk memory cards. My Fuji X cameras have two slots so I'm always running usually 128GB Sandisk extreme pro 300MB/s cards. I also use something called a GNARBOX and tons of memory storage, at the moment I use G technology. All of my camera bags are always stuffed with stuff to give to clients or possible new ones. This said I have Moo cards which is a great way to feature my work and it's always a conversation builder and I also bring mini books from Koylab, those are a little bit larger a little bit more expensive but triple the wow factor.
Fujifilm X-H1
Vertical Battery Grip VPB-XH1
Fujifilm X-T2
Vertical Power Boost Grip VPB-XT2
FUJINON LENS XF56mmF1.2 R
FUJINON LENS XF35mmF1.4 R
FUJINON LENS XF27mmF2.8
FUJINON LENS XF14mmF2.8 R
10x NP-W126S Battery
BC-W126 Battery Charger
Think Tank DSLR BATTERY HOLDER 4
Lens Baby Trio 28
BlackRapid Curve Breathe
BlackRapid Cross Shot
2x 3LeggedThing Release plates
10x 128GB SANDISK EXTREME PRO SD UHS-II CARD
10x 64GB SANDISK EXTREME PRO SD UHS-II CARD
SANDISK EXTREME 510 PORTABLE SSD
SANDISK EXTREME 900 PORTABLE SSD 960GB
SANDISK Connect Wireless Stick 64GB
ThinkTank Pixel Pocket Rocket
GnarBox 1.0 256GB
G-DRIVE ev ATC with Thunderbolt 1TB
G-Drive Mobile USB-C
KoyLab MiniBooks
Moo Business Cards
Apple Iphone 8
For my everyday travel on the go photography I have a Think Tank Retrospective shoulder back and in here I carry my FUJIFILM X100F. It's an awesome little camera with a fix 35mm lens. I also have my Fuji Instax printer so when I'm taking street portraits I can give prints directly to the people that I'm taking pictures of. I use a BlackRapid Street Breathe strap. I also always have a 14" Wescott Reflector and again Koylab mini books, moo cards, my mobile device, sunglasses of course and my JBL wireless headphones because I like to have my music on the go.
On my commercial shoots, I always have a portable digital workstation. My choice is a 13 inch MacBook Pro with two SanDisk SSD 480GB inside. I am also using G technology hard drives and always keep a GNARBOX with me. I have a three Legget thing tripod to keep my case secure and above the ground. If I'm shooting tethered I'm going to have my Tether Tools cables and again lots of memory cards from SanDisk.
Apple MacBook Pro
128GB SANDISK EXTREME PRO SD UHS-II CARD
64GB SANDISK EXTREME PRO SD UHS-II CARD
SANDISK EXTREME 510 PORTABLE SSD
3LeggedThing Tripod
TetherPro USB 3.0 to Micro B
GnarBox 1.0 256GB
G-DRIVE ev ATC with Thunderbolt 1TB
G-Drive Mobile USB-C
KoyLab MiniBooks
Moo Business Cards

Another page of the evolution of my kit was when portable off-camera strobes became feasible at an operating cost so at the moment I currently own Profoto B1 kit and that has two heads and four batteries and a series of accessories such as barn doors, honeycombs, and gels. This backpack is great because it contains a lot of power and it is a fairly portable unit.
2 x B1 Off-Camera Flashes
4 x 
Li-Ion Battery MkII for B1
The Pelican 1510 Case is my on-location lighting case, because of its sturdiness and ability to take a beating. It's so sturdy in fact that I'm able to stand on it and gain a few inches without fearing for my lighting kit. 
My off-camera flash system of choice at the moment is the Profoto B2. This system is perfect for me because of its light-weight and portability, which is crucial for me, since 70% of my work is done on location. The Profoto B2 is great because one battery allows me to shoot around 215 flashes at full power and the battery's recharge time is super-fast. This system also has great compatibility with light modifiers from Profoto and Westcott using the super simple to use speed ring.
2x B2 Off-Camera Flash Heads
1x B2 250 AirTTL Battery Pack
2x Li-Ion Batteries
1x Car Charger 1.8A
1x Battery Charger
1x Air Remote TTL Transceiver
1x B2 Extension cable 3m
1x OCF Snoot
1x 30 Degree OCF Honeycomb Grid
1x Gel Kit
Westcott Ice Pack
The Westcott Ice Light case is used to, obviously, carry my Ice Light lighting Kit. The case is a standard one but instead of carrying one Ice Light it carries two, along with other essential pieces of gear like the barn doors, tungsten gels and extra batteries.
The Ice Lights are amazing. They're small and very portable, and they produce a beautiful light, which is daylight color balanced. They also run for about 2.5 hours on a single battery which is great — and if that's not enough then you can attach an extra battery through the Ice light two-way connector which gives about 1 to 1.5 hours of extra battery time. I use them whenever I need a reliable, daylight balanced continuous light source, either for photography or video. They're very versatile.
F.J. Westcott Icelight Bag
2x Westcott Ice Light
2x Icelights Case
2x Westcott Ice Light Power Pack Battery
2x Westcott Ice Light Tungsten Gel
2x Westcott Barn Doors for Ice Light
2x Westcott Tilter Bracktet with brass spigots
2x Westcott Ice Light Two-Way Connector
2x Batteries Chargers
My second Ice Pack carries not so obviously my Westcott Flex Kit. The Flex is an amazingly versatile tool that I use not only for photography but for video as well. With it's flexible and compact design I can illuminate a subject in many different angles using one light only.
1 × Flex 1′ x 1′ Bi-Color LED Mat
1 × Flex Bi-Color 4a Digital Dimmer
1 × 19v/3A Power Adapter
1 × Power Cord 
1 x Dual-Joint Tilter Bracket
1 x Flex Cine Frame Diffuser
1 x Flex Cine Frame
ThinkTank Airport TakeOff
The ThinkTank Airport TakeOff is the perfect camera bag for the photographer or videographer on the go. I say it's perfect because of its size (35.5x53x22cm), which will fit either in the overhead or under the seat in most commercial, domestic and international flights. Unlike the Pelican 1510 for example, who won't fit on board of most low-cost flights (like Raynair and EasyJet). The bag also has shoulder straps, that convert it from a roller bag to a backpack, which is very handy when the terrain is bumpy. The bag has a front pocket that fits a 15 inch laptop or even some 17 inch laptops. It has also a bottom handle that allows it to be carried like a crate. Once carrying my Canon Kit, I have adapted this bag for my SMDV Bright 360 strobes.
3x SMDV BRiHT-360
5x Li-on batteries
3x Standard Reflector BR-120
3x Battery Charger
BR-40 Snoot with grid adapter

Thinktank Citywalker 30
A compact shoulder bag that now I use to carry my SMDV accessories in.
BR-170 Tele/reflector
BR-300 Beauty dish with grid adapter
SMDV Speedbox-70

Profoto Compact Heads
These heads stay in my studio, as they don't use battery they are a solid choice for this job, plus I own a lot of modifiers with the Profoto mount. I don't have a cable to synch them so I use them with slave.
Profoto ComPact 600R
Profoto ComPact 1200
Westcott Light Modifiers
I own a big variety of Westcott Softboxes with Profoto mount. Starting with the big octabox, two strips one of which is asymmetrical, two small ones one of which has a masters brush modifier and my newest addition to the kit the two rapid boxes, one is the collapsible beauty dish and the other the rapid octa XL. It is kinda sad that Westcott don't make asymmetrical strips and masters brushes anymore they are one of my favorites. I also have two Westcott Halo softboxes which are great to take outside and a variety of Westcott 7′ umbrellas. I have Westcott Eyelighter, an awesome tool to fill in some light and a standard triflector that adds additional options from the Eylighter. Also, there are some medium and large Westcott Scrim Jims that are great to take outdoors or mount inside. The Westcott Fast Flags are also a great and important tool that I use either outside or in the studio. And last but not least my compact background system that offers fast and reliable backdrop mount anywhere.
Westcott Studio Softboxes
Westcott 5′ Octabank
Westcott Stripbank 1×6
Westcott Rapid Octa XL
Westcott Rapidbox Beauty Dish
Westcott Halo Softbox
Westcott 7′ Umbrellas
Westcott Eyelighter
Westcott ScrimJim
Westcott Fast Flags
Westcott Backdrop Support System

Reflectors

Elinchrom 750 Micro Kit
My Elinchroms are the oldest kit of studio lights  I currently have in my studio. They have been with me for a long long time and I can say they haven't betrayed me ever since. Sadly the remote control doesn't work anymore, so I have to use them with slave. Nowadays I use them mostly as background lights. I have some nice modifiers for them like reflectors, deep reflectors, barn doors, honeycombs, a square beauty dish with a honeycomb grid and my favorite and the reason i still keep them the S35 Fresnel.
3x Elinchrom 750 Micro
2x Elinchrom Standard Reflectors
2x High Performance Reflector 48°
2x 44/35cm Barndoors
1x Rectangular Honeycomb grid
1x Square Beauty dish with Honeycomb grid
1x Elinchrom Fresnel S35

The Dedolights are very dimmable, high-quality consistent lights, that I mostly use for product photography. The kit comes with many accessories that are perfect for my needs.
Studio Tripods
I have many tripods in my studio, they always come in hand, supporting studio heads, backdrops, reflectors, you never know for what they will be used. I have bigger Westcott ones and really small Manfrotto tripods. Also I have some huge old tripods that add really stable fill to the whole kit.
Camera Tripods and Monopods
My choice for camera tripods is 3LeggedThing, it is a brand that I have been using over the years and I really enjoy. Their tripods are versatile, light, sturdy and even some of them have a leg that transforms into a monopod. The tripods I have are Eddie, Eric, Keith, and Albert. I also use 3LeggedThing ball heads and release plates.
3LeggedThing Albert
3LeggedThing Eric
3LeggedThing Keith
3LeggedThing Eddie
3LeggedThing AirHed 360
3LeggedThing AirHed Switch
3LeggedThing QR4
3LeggedThing QR7
3LeggedThing QR11-LG
3LeggedThing QR11-FBC
Sliders
I own ProMedia Gear VS24 PMG-DUO 24 Inch Video Slider, Aviator Gear Slider Kit, and Aviator Gear Travel Jib. These three are great tools when I'm filming, making some time lapses or just shooting some behind the scenes.
ProMedia Gear VS24 PMG-DUO 24 Inch Video Slider
Aviator Gear Travel Jib
Aviator Gear Slider Kit