There's nothing better than cozying up with a good book inside once the weather gets cold outside. That's why I comprised a list of the best books to buy for anyone you know that is interested in photography. If you are a photographer and are interested in any of these books the links will be below every book! For my in-depth deep dive into each book link to the video is here
1. The Dramatic Portrait: The Art of Crafting Light and Shadows by Chris Knight
Starting off we have The Dramatic Portrait: The art of crafting light and shadows by Chris knight. In this book, Chris addresses portraiture with a unique approach to both light and shadow that allows you to improve your own portraiture. He begins with the history of portraiture, from the early work of Egyptians and Greeks to the sublime treatment of light. Chris then dives into a deep, hands-on exploration of light, shadow, and portraiture, offering numerous lessons and takeaways.
2. 20th Century Photography by AA.VV
This book provides a rich & diverse list of many fascinating pieces of work during the 20th century; from conceptual art to abstraction to reportage, all of the major movements and genres are represented. There are over 850 works presented in alphabetical order by photographer, with descriptive texts and photographers' details, providing a comprehensive overview of 20th-century photography.
3. Hasselblad Masters Vol4
Renowned photographers in 12 categories show their most extraordinary images in topics including editorial, wildlife, landscape, and product photography. The Hasselblad Masters is one of the world's most prestigious professional photographic competitions, giving acclaimed professionals and aspiring newcomers the chance to make their mark in the world of photography.
4. Hasselblad Masters Vol5
In 2016, Hasselblad was celebrating its 75th anniversary. The leading medium format camera manufacturer has always stood for a love of photography, technical excellence, and creative vision, all in sync with the brand promise, 'Create to inspire.' The Hasselblad Masters is one of the world's most prestigious professional photography competitions and gives acclaimed professionals and aspiring newcomers the chance to make their mark in the world of high-end photography. This year's competition encouraged over 4,000 applicants to submit their work. The 10 winners were selected by an expert jury and the public, who were all asked to nominate their favorite images online. The selection criteria encompassed ambition, imagination, and photographic skill, and each winner and newly crowned 'Hasselblad Master' is then given the task of shooting for the book in-line with the theme of 'inspire'. In addition to the established categories such as architecture, fashion, and portrait, street/urban photography was included in the competition for the first time.
5. William Wegman: Being Human by William A. Ewing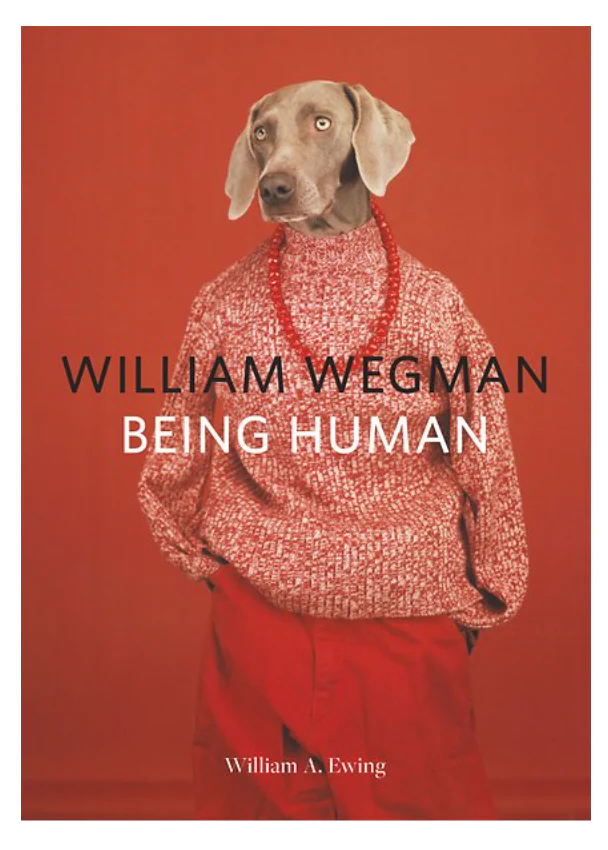 William Wegman's whimsical photographs of his Weimaraner dogs have been celebrated in the art world and enjoyed by pet lovers for nearly four decades. In this new volume, renowned photography curator William A. Ewing presents more than 300 images from the artist's personal archive, unearthing previously unseen gems alongside the iconic images that have made Wegman beloved worldwide. Presented in sixteen thematic chapters, William Wegman: Being Human foregrounds the photographer's penchant for play and his evergreen ability to create images that are at once funny, striking, and surreal.
6. The Photography Ideas Book by Lorna Yabsley
Let your creativity run wild and breathe new life into your photography. Then it's time to refresh your creativity with a lively exploration of photography. There's always a new angle with which to shoot your subject, a different light to capture, or a completely new genre to try out, so there's never an excuse for your camera. This little book, full of big ideas from a range of iconic and contemporary photographers, will inspire you to think differently. With a new concept on every page, you will discover fresh ways of tackling your subjects to create original and exciting work.
7. Photography- A feminist history: how women shaped the art by Emma Lewis
This feminist retelling of the history of photography puts women in the picture—and, more importantly, behind the camera! In ten thematic, chronological sections, Tate Modern curator Emma Lewis explores the vital role women artists have played in shaping the ever-evolving medium of photography.
8. Sebastiao Salgado. Amazonia
For six years Sebastião Salgado traveled the Brazilian Amazon and photographed the unparalleled beauty of this extraordinary region: the rainforest, the rivers, the mountains, the people who live there—this irreplaceable treasure of humanity in which the immense power of nature is felt like nowhere else on earth.
9. How to photograph Everything: Simple Techniques for Shooting Spectacular Images
With 40+ chapters on subjects such as fashion, floral, concert, photojournalism, and aerial photography, How to Photograph Everything helps you approach every subject on your bucket list and translate your vision into beautifully composed, technically sound images that you'll want to share again and again.
10. The photographer's guide to posing: techniques to flatter everyone by Lindsey Adler
When photographing people, you can have a great composition, perfect light, and the right camera settings, but the shot will not be a keeper if your subject doesn't look right. Posing is a crucial skill that photographers need to have to create great photographs. If you're looking to improve your ability to pose your subjects—whether they're men, women, couples, or groups. Lindsay Adler's The Photographer's Guide to Posing: Techniques to Flatter Everyone is the perfect resource for you.
11. Creative 52: Weekly Projects to Invigorate your Photography Portfolio by Lindsey Adler
Creative 52 is your guide to a new and more creative portfolio in just one year! A remedy for that "average" portfolio, this collection of innovative projects will help portrait, wedding, and fashion photographers build a portfolio that draws the attention of editors and clients. While other how-to books often use bland imagery simply to prove a technical point, and many fine art books are filled with beautiful imagery but contain minimal (if any) educational insights to help working photographers, this book blends both: inspiration and knowledge that you can use to create images that attract a potential client.
12. Fotografia com Câmara Digital è Smartphone
This book is a mandatory reference work for anyone who wants to start and develop in the exciting world of photography. With the ability of smartphones, we are witnessing a generation that records and publishes thousands and thousands of images daily. I also helped Alexandre Barão write this book as well!
13. Annie Leibovitz- At Work
Leibovitz addresses young photographers and readers interested in what photographers do, but any reader interested in contemporary history will be fascinated by her account of one of the richest bodies of work in the photographic canon. The subjects include photojournalism, studio work, photographing dancers and athletes, working with writers, and making the transition from shooting with film to working with digital cameras. Originally published in 2008, this revised and updated edition brings Leibovitz's bestselling book back into print.
14. Hasselblad vol.6 Innovate
Hasselblad Masters Volume 6: Innovate is an artistic testament to the winners of the 2018 Hasselblad Masters competition, showcasing each photographer's passion and individual creativity in a striking full-page format. Upon receiving the prestigious Hasselblad Master title, the winners were assigned a challenge to create images in their respective expertise with Hasselblad medium format cameras. Connected by the unifying theme of "innovate," the stunning results include sublime pastel landscapes of the Southwestern United States, fine art scenes set against stark Slovak architecture, poetic Scandinavian portraits, and more. Among the pages of impressive photos are passages from each photographer reflecting on their experience with the project and their biography, inspirations, and impressions on becoming a Hasselblad Master.
15. Hasselblad vol 2 Emotion
My Image was chosen for the Cover shot of Hasselblad Vol.2
Hasselblad—manufacturer of the finest photographic technology for more than five decades—sponsors the elite Master's contest each year, recognizing both the top established and upcoming photographers. Starting with 1,700 accomplished entrants who submitted ten photographs each, the Hasselblad team rigorously narrowed the selection to 100 finalists.
Five editors of respected international photo magazines were then assigned the difficult task of choosing ten ultimate winners. These ten Hasselblad masters were given access to the finest photographic equipment and asked to interpret the theme "emotion" in their own distinctive ways. This book contains compelling projects from each of the winning photographers.
16. MORE BEST BUSINESS PRACTICES FOR PHOTOGRAPHERS
This second volume features even more tips and techniques for professional and aspiring photographers looking to operate a successful photography business. Photography is more technologically sophisticated than ever today, but it takes more than a good eye and technical know-how to build a thriving business. A veteran pro photographer, Harrington understands the business, and he gives you the details you need to know in order to succeed. In easy-to-understand language, he covers the essential points of the business of professional photography and guides you toward best practices in client interaction, negotiating contracts and licenses, business operations, and much more
17. Studio Anywhere by Nick Fancher
Nick Fancher is a photographer, author, and educator specialising in dramatic lighting, often employing bold colors and experimental camera techniques. He is particularly known for his efficient working method, which is with minimal gear, often in unconventional locations. This book will teach you how to exactly do that with minimal gear.
18. Peter Hurley- The Headshot
Peter Hurley shows you his positioning techniques, his secrets for getting genuine smiles, and images that look so natural.  You'll learn the same techniques Peter uses to create amazing headshots for everyone, from execs at top Fortune 500 companies to Silicon Valley start-ups to actors and public figures who know how important a great-looking headshot is.
19. Equus- Tim Flach
Tim Flach is a photographer best known for his highly conceptual portraits of animals. His images are a departure from traditional wildlife photography and he has been described as "a potent example of a commercially trained photographer who's now reaching a global audience through the boom in fine art photography."
20. Sante Dorazio – A Private View
An album of more than six hundred color and black-and-white photographs records the life and career of one of the world's preeminent fashion and celebrity photographers, in images from magazines, travel souvenirs, and personal notes.
21. Anne Leibovitz- A Photographers Life
Annie Leibovitz's photographic memoir of the past fifteen years of her life captures powerful, intimate moments. She shows celebrities' full-color flash and the natural landscape's grandeur.  A Photographer's Life is a testament to a life lived large and in full embrace.
22. Peter Lindbergh- A Different Vision on Fashion Photography
This book gathers more than 400 images from four decades of Lindbergh's photography to celebrate his unique and game-changing storytelling and the new romantic and narrative vision it brought to art and fashion.
23. The Photographers survival guide by Suzanne Stone
A no-nonsense guide that provides guidance and tools for all levels of photographers–from those just starting out to those who want to move to the next level. Turn to this book for ready-to-use guidance on navigating the ins and outs of the industry, including:
Establishing a recognizable style that is all your own
Creating a website and portfolio, including costs, selecting images, and working with a designer
Building, buying, and using contact lists and databases; creating e-mail blasts and printed promotions; and person-to-person meetings with buyers
Estimating, bidding, and negotiating your fee
Doing the job: prep work, the actual shoot, post-production, and billing
Understanding the stock photography business
24. Trabalho- Sebastião Salgado
Sebastião Salgado pays tribute to the tradition of manual work, which centuries have honored, as a new millennium approaches and workers across the globe are being replaced by machines and computers. With images of impressive beauty and veracity, Salgado composes a visual elegy to hardworking men and women, whose indomitable spirit has overcome the harshest conditions and acquired a singular state of grace.
25. Helmut Newton- 20th Anniversary Edition
The idea of a book the size of a private exhibition, with spectacular images reproduced to state-of-the-art origination and printing standards, emerged from an open, experimental dialogue between photographer and publisher. Newton created a landmark book that stood head and shoulders above anything previously attempted, both in terms of conceptual extravagance and technical
For my in-depth deep dive into each book link to the video is here