If you are looking for gear that can make your shoot and editing process faster then you're at the right place.
My name is Joao Carlos and today the people at SanDisk have sent me a Mystery box of goodies that are going to get you excited
Click here or the picture above to view the video
SanDisk Extreme Pro

 

SDXCUHC1
The first thing out of the box were two extreme pro storage cards with 128GB of storage and with 200Mbs of download speed to have some of the fastest cards on the market to make your life easier.
SanDisk Extreme Pro SDXCUHC1 128GB Card Here (EUR)
SanDisk Extreme Pro SDXCUHC1 128GB Card Here (US)
SanDisk professional Pro-Blade 2TB SSD Mags & SanDisk Professional Pro-Blade TransPorter
With those fast cards, you need a fast hard drive to keep up and that's where the Pro-Blades come in. The SanDisk Pro-Blade redefines the standard hard drive by making it smaller, faster, lighter, and easier to carry in compact sleeves. The sleeves pop in and out in two seconds in our final product the SanDisk Pro-Blade Transporter. 
Not only does the transporter act as a protective case for your 2TB sleeves but also acts as the outer body of your hard drive with a USB-C port that can connect to your camera and laptop easily.
My favourite part about this is you can save your work right onto hard drives right from your camera and switch the mags in a matter of seconds so you have no time lost looking for more cards that are empty. This makes it ideal for long shoots and makes it that much easier to access later on.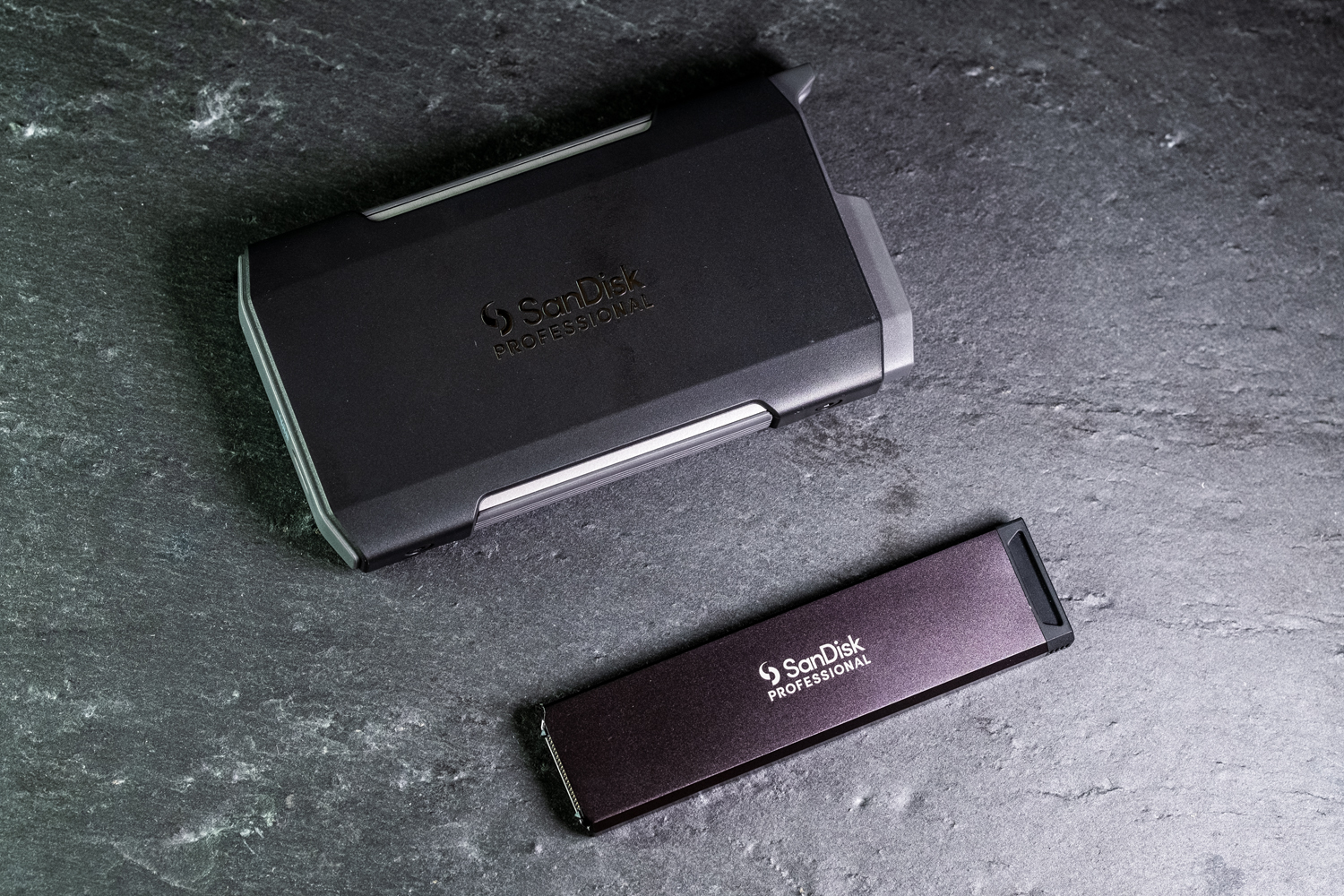 SanDisk Professional Pro-Blade 2TB SSD Mags & SanDisk Professional Transporter Here (US)
SanDisk Professional Pro-Blade 2TB SSD Mags & SanDisk Professional Transporter Here (EUR)
Extreme Pro

 

SDXCUHC1 128G 200MB Speed Specs-

 
Temperature-proof, waterproof, shockproof, and X-ray-proof
Most powerful SD UHS-I memory card yet
Read speeds of up to 200MB
Allows capturing high-resolution, stutter-free 4K UHD video3.
Stunning Sequential Burst Mode Shots

Dimensions (L x W x H) 4.32″ x 1.1″ x 0.3″
SanDisk Professional Pro-Blade 2TB SSD Mags
The small size allows carrying multiple Pro-Blades at once

Dimensions (L x W x H) 4.32″ x 1.1″ x 0.3″

Cool aluminum exterior to help sustain super-fast speeds during heavier usage

Come in 1Tb 2Tb & 4Tb options
Ultra-durable build withstands 3m drop and 4000lb. crush
Operating Temperature- 41o – 95oF | 5o- 35F
SanDisk Professional Pro-Blade Transport Specs-
Up to 2000MB/s2 read and write speeds.
Allows you to easily swap out PRO-BLADE™ SSD mags so that you can carry several terabytes of storage without excess bulk.
Amplify Your Carrying Capacity

 

Sustains its Cool Under Pressure
The PRO-BLADE TRANSPORT enclosure features a cooling aluminum heat sink to help sustain superfast transfer speeds through more demanding workflows.
USB-C 20 Gbps Cable

Dimensions (L x W x H) 5.13″ x 2.81″ x 0.63″

Compatibility macOS 10.13+ Windows® 10

Operating Temperature- 41o – 95oF | 5o- 35oC