I am excited to share with you my article in this September's issue of FujiLove magazine
! The magazine features various photographers in all fields of photography, and all of them have at least one in common, their love for Fuji and its gear. The article I wrote is about various combinations of light that I have used in my images.
FujiLove September 2018, Cover and Content Sheet.
Here are is an image of my article inside the magazine: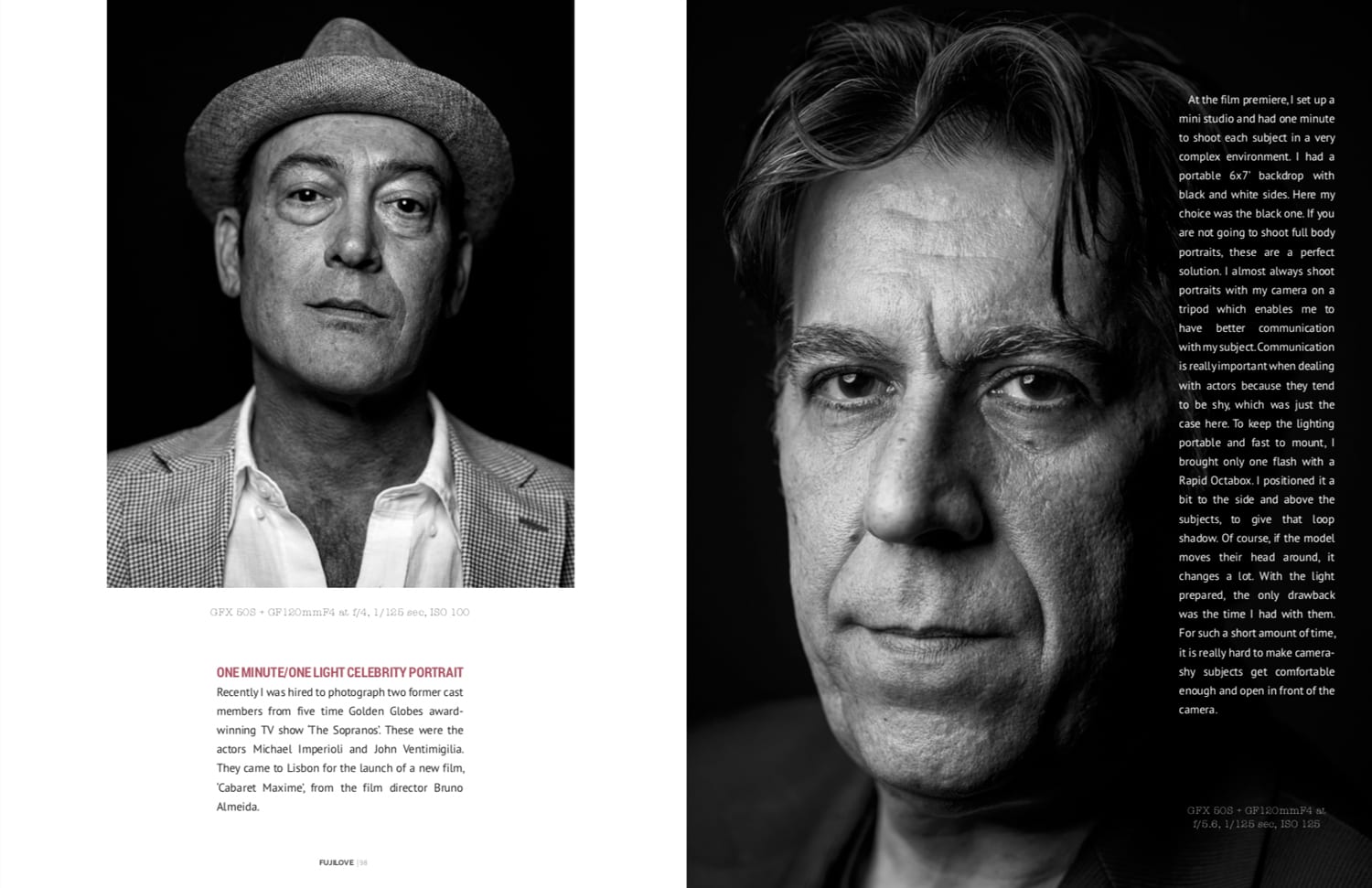 If you are interested in having the magazine you can subscribe for it on fujilove.com.
Scroll down to read the full article!
Lighting Setups to Inspire Photography
It is hard to define which is my field of specialization in photography since I shoot fashion, advertising and portraits. In all these fields I have to rely on different lighting. Sometimes I have to go for really complex light setups with a lot of lights, reflectors and flags, but other times I get perfect results with a simple one-light setup. In this article, I am going to break down som different light setups from real examples of images I have shot, that use one to five lights.
My hope is that in here you will find inspiration to take on more complex lighting and maybe diversify your subject matter.
One Minute/One Light Celebrity Portrait
Recently I was hired to photograph two former cast members from five time golden globes award-winning TV show "The Sopranos". These were the actors Michael Imperioli and John Ventimigilia. They came to Lisbon for the launch of a new film, "Cabaret Maxime" from the director Bruno Almeida.
At the film premiere, I set up a mini studio and had One Minute to shoot each subject in a very complex environment. I had a portable 6×7′ backdrop with black and white sides. Here my choice was the black one. If you are not going to shoot full body portraits, these are a perfect solution. I almost always shoot portraits with my camera on a tripod which enables me to have a better way of communication with my subject. Communication is really important when dealing with actors because they tend to be shy, which was just the case here. To keep the lighting portable and fast to mount, I brought only one flash with a Westcott Rapid Octabox. I positioned it a bit on the side and above the subjects, to give that loop shadow. Of course, if the model moves their head around it changes a lot. With the light prepared the only drawback was the time I had with them. For such a short amount of time, it is really hard to make camera-shy subjects get comfortable enough and open in front of the camera.
To show you the diversity of the one-light set up, here is a beauty portrait of model
Teresa
 that I shot in
Prague,
in collaboration with the amazing makeup artist
 Lucka Chytra
.
For this image, I had a softbox positioned on my right side slightly above the subject facing towards it. It was creating a soft and natural light, focusing on fresh-looking skin, and soft eyes and lips. As you can see the change in position of the one light creates a totally different look compared to the portraits of the actors. One-light setups are really versatile and can give you enough room to explore and get creative in.

Here Is another one-light set, a portrait of barber Miguel Leão from Belarmino Barbershop, but this time I have a mix of ambient light going around. I used a small softbox to lighten up my subject, and left more exposure time, shooting it at 1/15s for the ambient light to pop up and give light to the details in the barbershop.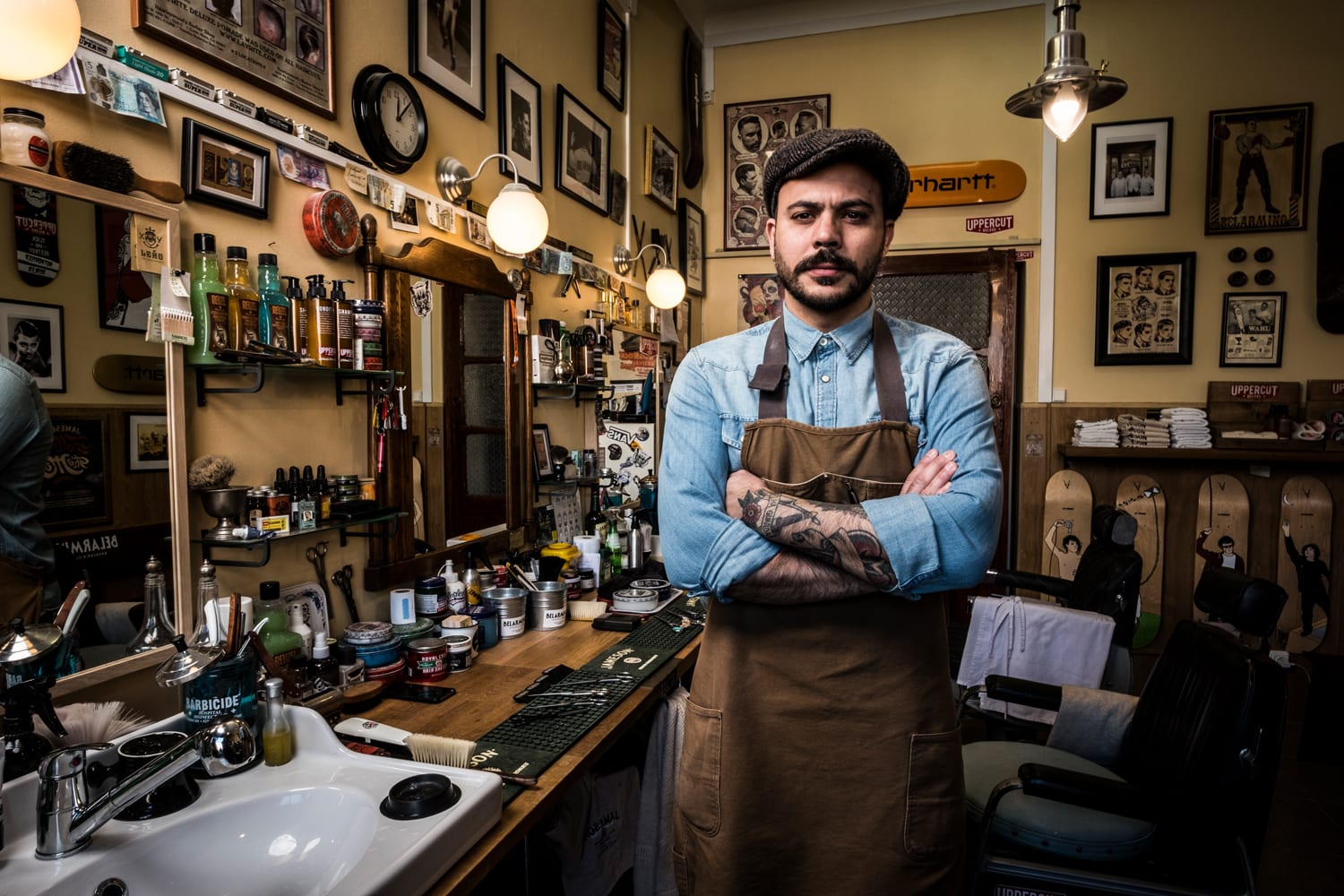 My friend Louise L'Amour, a Burlesque performer and a fashion designer, created four amazing characters with two looks each for one of her performances. I was lucky and grateful to be the first to see her new costumes and photograph them. We created a set in the studio with a mix of fabrics, backdrops, vintage furniture and some props we had laying around the studio.
The lenses I chose for this were the Fujinon XF56mm F1.2R and XF35mm F1.4R. I tend to shoot prime lenses as they are great for video, have amazing image quality and fast aperture, and are more compact.
The main set had five lights, first of all, I using a flash with a beauty dish as the main light just for Louise. I also used some flags to control this light and limit its direction on the set, keeping my focus on the model. As a hair light, I used a 1×6′ strip box right above her, which ensured that the light was nice and soft and with a large coverage. The scenario had a lot of details so I used a total of three lights for them. To light the background behind the furniture and model, I had a Profoto B1 with a honeycomb grid, which gave the light a good directionality to hit exactly where I wanted to. Finally, two Profoto B2s with a honeycomb grid each lighting the details of the fabrics beside the model. Again the direction the honeycomb provides is great for lighting specific places without contaminating other parts of the image.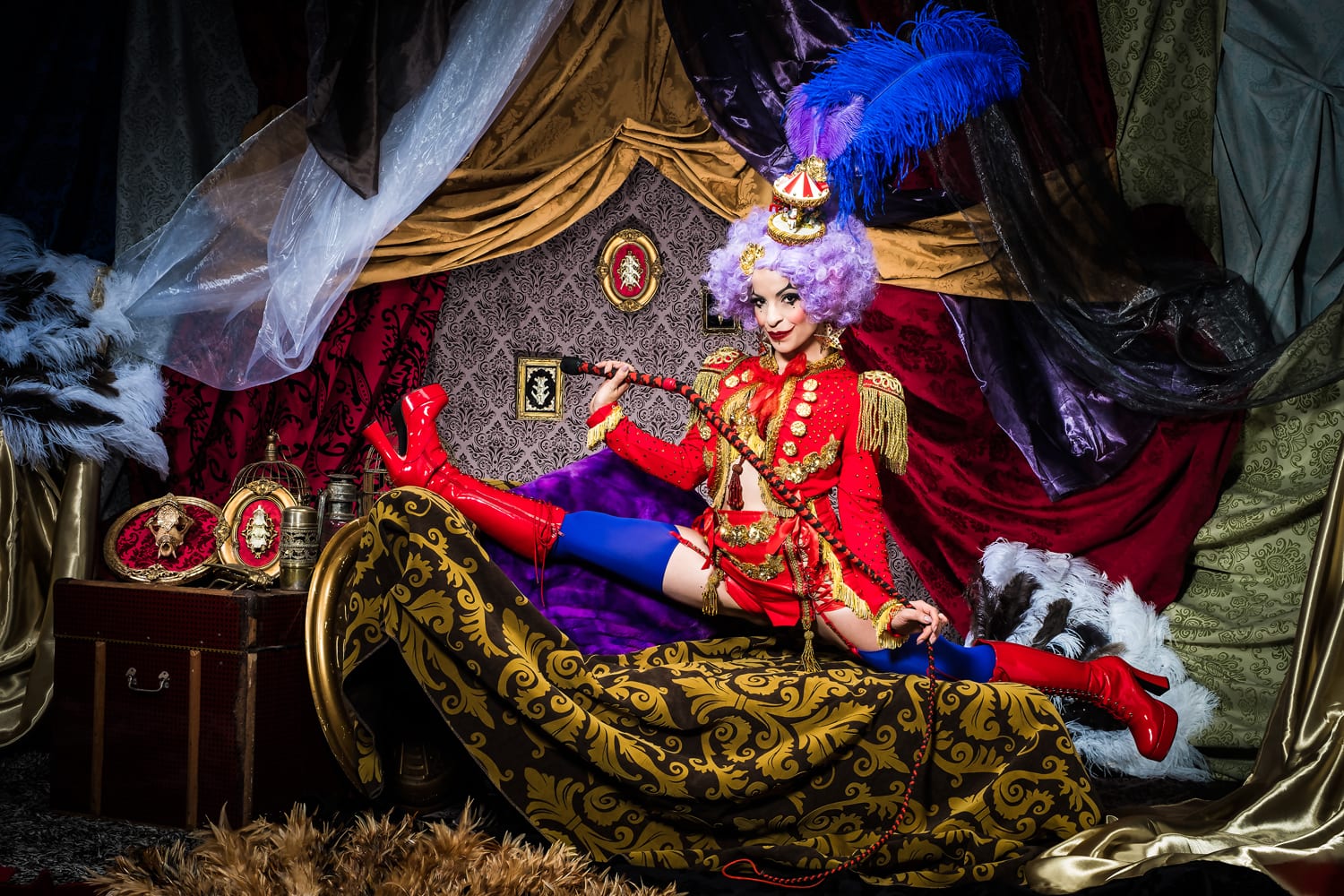 Additionally, we created a second set just for portraits to capture the details of the character costumes without getting them lost in a complex background. We used various backgrounds with two lights. A Halo soft box as the main light in front of and above the model, plus a Westcott Eyelighter reflecting the light from below to fill the areas of the neck and the clothes, ensuring a nice and even soft light all over the model. As the background was made from wood, I needed to use a dedicated light for it. I used a honeycomb grid, making it really precise and lighting only the area behind her head, which created a nice glow around her.
At the beginning of this year, I had the opportunity to shoot horsemanship in the countryside of Golega, Portugal. There I was able to take some stunning portraits of the horses.
My crew and I set up a giant flannel black backdrop in the middle of the riding field, since I really wanted to have studio look and feel to the Horse Portraits. In terms of lighting, I had two off-camera flashes one with an umbrella softbox and the other with an octabox. These are two of the softest modifiers I have. They were placed on the left and right sides of the backdrop between myself and the subject, each at 45º pointing towards the horses. Even though the light from the flashes was very diffused this placement of the lights created really nice contrast and the details of the horse fur therefore popped out. There was no need for reflectors or anything else, since I wanted that contrast and yet, to keep the look natural, I shot the whole thing with this easy set up. To complete my outdoor studio, I had my Fujifilm GFX with the GF120mm f/4 Macro lens.  
In collaboration with the amazing Polish designer Agnieszka Osipa, model Alina Malai, and makeup artist Sara Kruss Taborda, I decided to create a high-impact conceptual image in the medieval village of Óbidos, Portugal. It had the perfect feel for what I was planning – a heroic queen of the light against the darkness represented by the plague doctor.
I was shooting with the XF14mm f/2.8 lens, since creating portraits with wide angles has always been a favorite thing of mine to do. As for the lighting, I had three flash heads with some accessories like simple reflectors, a small Softbox and a beauty dish with a honeycomb grid.
This image had a flash with a softbox placed in front of and above the model, and two others with reflectors to fill the background. They were placed on the same plane as the model on each side, pointing at 45º towards the church behind.
The image of the Plague doctor was also with three lights, however this time I used two lights for the model. One flash on the side with a reflector as a separation light, which made a cool flare as well over his staff. Since he was wearing dark clothing, I needed an extra punch to bring the details of the fabric, for which I used a softbox pointed towards him from above. In addition, to bring some more details put from the background, I filled the right side with another flash with a standard reflector.
Partnering with the Portuguese Antique Motorcycle Club I managed to get five classic motorcycles available for a shoot, together with a member of the club – the gorgeous model Marina Oliveira.
The location where I shot these images was an old industrial compound on the Tagus riverside in eastern Lisbon. The huge open space with that vintage industrial feel gave a great setting for these beautiful motorcycles.
The first thing I did when I arrived at the general location was to decide the exact spot of the subject. I wanted to take advantage of some of the natural light of the space, however, the ever-changing light conditions were a  big challenge. This time, I relied on my Profoto B1 system. By using a mix of artificial and natural light my image became more complex and interesting. The lens mounted on my medium format was, again, the GF120mm f/4 Macro. I find this particular one to be a great fit for what I usually create with the GFX.
For this I used five light setup: a flash with octabox to get some really soft light on a taller light stand above the bikes, two other lights with barn doors and without any light modifier, and two flashes with reflectors as backlights to bring more details in the rear parts of the motorcycle. In this image, I have a couple of diffusers and flags to block the extra natural light coming in from a giant window in the space.
Here I have a four light setup, using two flashes for the sides of the bike, one without a diffuser on it and the other one has a set of barn doors. My assistant held a B1 manually with an octabox above the Ducati 900 MHR, with another flash pointing towards the giant engine that made up part of the background.
"YOU CAN CREATE STUNNING IMAGES WITH JUST ONE LIGHT BUT YOU CAN ALSO CREATE INTERESTING, MORE COMPLEX IMAGES WHEN YOU'RE USING MULTIPLE LIGHTS."
So, in conclusion, I hope you have not found the use of artificial light and use of more than one light overwhelming. As you can see, you can create stunning images with just one light but you can also create interesting, more complex images when you're using multiple lights. Every lighting scenario creates a different mood, feeling and emotion for your image. The more lights you add, the more complex the image becomes. If you're just starting out remember practice makes perfect and light travels in a straight line so that means it's easy to re-direct it using modifiers such as reflectors. Get out there and experiment, and I look forward to seeing Your own multiple light setups.