Being a professional artist is about much more than creating good artwork. These days, in order to be profitable in the art market, you need to have a toolbox of business skills to complement your artistic talent. If you want to be taken seriously as a professional artist, a certificate of authenticity can go a long way.
If interested in getting a certificate for yourself click here 
The certificate of authenticity is the first document that must be delivered when purchasing artworks, reporting the authorship of creation, and contributing to maintaining economic value over time.
Authenticity is the true passport of the artwork. It must contain a detailed description of the work, specifically: image of the work, name of the artist, title, year of realization, technical specifications (materials used and dimensions), number of copies (in the case of a photographic or sculptural work), provenance, signature and/or stamp of the person issuing the declaration.
Its value is defined in Italy by art. 64 of the "Code of Cultural Heritage and Landscape"(Legislative Decree 42 of 22 January 2004), which specifies that the authenticity document, issued on plain paper or on the back of the photograph of the work, must be delivered by the seller professional to the collector at the time of purchase.
Who issues the certificate of authenticity of an artwork?
There are two possibilities: let's see them in detail.
If the artist is alive, the certificate of authenticity is issued by law by the gallery owner, as well as by the artist himself.
If the artist is not living, the process is more complex, because there is no legislation that specifically determines which subjects are entitled to issue the certificate of authenticity.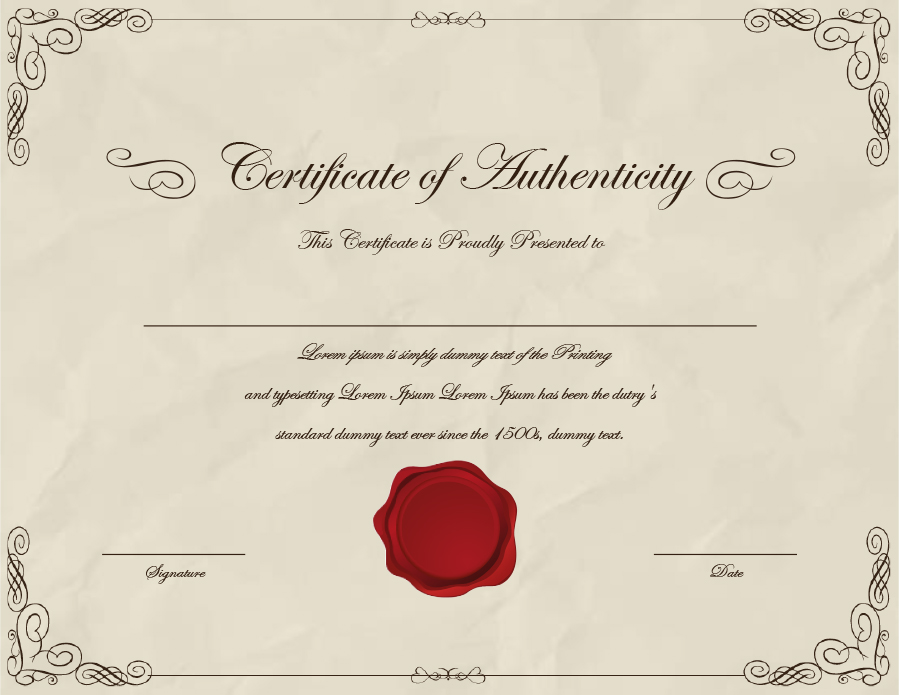 Why You Need a Certificate of Authenticity for Artwork
A COA certificate proves that a work of art was created by you, which could be important in determining the provenance and relative value of the work should it be sold later on, particularly if you become well-known and valued in the art market. Each certificate of authenticity can also act as a receipt and record of sale for you and the buyer. If you haven't been super successful in your artistic career so far, you may be wondering if you really need to go to the trouble of making certificates of authenticity for your artwork. Creating your own certificate of authenticity is so quick and easy that even if you doubt your potential for artistic recognition, there's really no reason not to go ahead and make one anyway. You never know when you might find success, and things can start to move really quickly when that happens. Save yourself the future overwhelm by setting up your COA certificate process now. Plus, certificates of authenticity can actually make artworks easier to sell, especially in auction or gallery settings. Serious art collectors will require any work they purchase to include a certificate of authenticity in order to prove provenance should they choose to sell the work on or donate it in the future. If the collector purchases the work directly from the artist, an invoice can also serve as proof of the origin of the piece, but a certificate of authenticity is still the most highly regarded and accepted way to verify an artwork.
When creating a certificate of authenticity, it is important to note that they aren't legally binding. Essentially, anyone can create one. There are no universal standards for certificates. This means that a lot of the time within the art world, there can be fraudulent certificates circling. To guarantee your authenticity it should really have a personalized look.
What is a certificate of authenticity used for?
For collectors, requesting and obtaining a certificate of authenticity allows you to:
1. Establish the identity and authenticity of the work of art
2. Keep track of the origin of the purchased piece
3. Quickly evaluate its value over the years, especially if the artist is or becomes part of it
4. To guarantee its authenticity and value for insurance purposes and during resale
For artists, providing a certificate of authenticity allows you to:
5. Ensure the authenticity of your creation
6. Facilitate the future of the work and its identification
7. Provide valuable service to your buyers
8. Gain credibility in your community
3 Important Reasons to Include a Certificate of Authenticity with your Art
While there are many reasons to include a Certificate of Authenticity with the sale of your original or limited edition artwork, there are three key benefits that artists and creators should not ignore:
Professionalism. When you're taken seriously, you increase trust—and the value of your work as one worth investing in.

Proof. Serious investors expect to receive a COA and it makes the work easier to sell.

Protection. Certificates can help protect your work from fraudulent and counterfeit reproductions.
 Why these three elements are so essential?
Reason 1: Professionalism
If you take yourself seriously as an artist, others will too. One way to demonstrate your professionalism is to include a Certificate of Authenticity with your artwork and creations. A clear, professional Certificate lets your collectors know that they are working with a pro that cares about their business and takes the time to consider the future life of their work. They also add to the experience of acquiring an original piece, complete with appropriate paperwork and details. You may also want to consider including business cards, postcards or other marketing materials, and written thank you notes along with your Certificates.
Importantly, a professional image can lead to increased trust.
Trust is important—and often enhances the value of your work as being worth investing in.
Reason 2: Proof
Certificates give your collectors the assurance that they are acquiring an authentic, original piece of art made by you. Or, for limited edition prints,  the work is one of an intentionally limited series. This helps your collectors authenticate and trace the history of the artwork.
Your artwork has a lifespan beyond the first collector you sell it to. Experienced collectors are used to receiving Certificates, even if the intention is not to sell the work down the line. It acts as proof that this is indeed an original or limited edition work and is, in a sense, a receipt of the acquisition.
Reason 3: Protection
Chances are, you are posting images of your artwork all over the place. Instagram, Pinterest, social media, your website, marketplaces, galleries, online exhibitions, advertisements—the list goes on. In short, there are many places to promote your work and many places for fraudulent actors to obtain images of it. While this article is not meant to go into the do's and don'ts of posting images of your work online, it is important to realize that in this day and age, it is far easier to make fraudulent copies of artwork than ever before.
Certificates help to refute counterfeits and add a layer of protection for your work—for both you and your collectors. Even if you are not selling out your collections today, you never know when that day in your career may arrive. Including Certificates with your artwork from Day One can help secure your work for years to come.
What should you include on a Certificate of Authenticity?
The details you need to include on a CoA may vary depending on the artwork in question. However, you should always include the name of the piece, the date it was created, and a signature: either of the artist, the publisher (for limited editions), or a confirmed dealer of the artist.
a quick checklist of things to include on your Certificate of Authenticity
1. Include the artist's name as well as the title of the painting, illustration, sculpture, etc.
2. Add the medium
3. List the materials that were used
4. Some artists choose to include a small picture of the artwork on the certificate, but this isn't needed if the definition is adequate
5. Include the artist's name as well as the year of creation.
6. Indicate the piece's exact dimensions, as well as any additional information if it is a limited edition
7. The location of the artwork, which is typically a region
8. If it's an original or a copy (print)
9. Create a certificate numbering or code scheme, with a unique number for each piece of artwork. Make a note of the code for your own records
10. Add the date and sign your full name in ink
11. Include your contact details (address and email) as well as a link to your art website. It's a good idea to provide a link to where the artwork can be viewed online to show that you're the one who made it
12. Declare that the artist retains all copyrights and that the artwork cannot be reproduced without your permission
13. For enhanced authenticity, some artists want to rubber stamp their certificates
14. Offer a few pointers on how to look after the artwork
15. Include additional detail about the artwork, such as where it was written and where it was displayed, if appropriate
16. If it's necessary, provide care instructions.
You should provide a certificate of authenticity for every piece of artwork you create. This applies even if you never intend to sell the work. If you choose to sell later, you will have all the original details of the authenticated piece. When  My Stages of Isolation series  exhibition was closed at the Campo Pequeno Gallery because of lockdown  During the Covid  restrictions, I  rethought the process and started offering limited edition signed  prints and books  on my website,
buy artwork online, they like to see the certificate before purchasing, having one prepared is a great way to streamline the sale.
The Hahnemühle Certificate of Authenticity was the product I had been searching for and from my research, it would seem is a top choice of many fine art galleries. Each certificate is made of premium deckle-edged mold made paper with a Hahnemühle watermark and fluorescent security fibers. A pair of serialized numbered holograms accompany each certificate and are intended to adhere to both the certificate and the reverse side of the artwork. The holograms are tampered proof so once they are attached it is impossible to remove them without damaging them. The combination of certificate and hologram assures that each Certificate of Authenticity relates to one particular piece of art. They also supply a COA template if you need some help getting started.
Finally, they provide an online registry where you may register your limited editions for further protection.
Refrences for the post :
https://www.certsofauthenticity.com/articles/3-important-reasons-to-include-a-certificate-of-authenticity-with-your-art